HADLEY TOWNSHIP OFFICES

Hadley Township Offices are located at 4293 Pratt Road, to the east of Hadley Village. Pictured above, the building is newly constructed and was opened for use in July 2003. The Township Offices provide administrative office space for the Township Supervisor, Clerk, and Treasurer. The building also includes a hall for public meetings of the Township Board, Planning Commission, and Zoning Board of Appeals as well as for other public functions.
---
HADLEY OLD TOWN HALL
Located in the Village to the east of Hadley Road, the old Town Hall is used for small parties and rented by various community organizations. For rental information contact the Township offices at 810-797-2117.
---
LIBRARY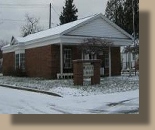 The Hadley Township Library is located in Hadley Village at 3556 Hadley Road. Built in 1988, the library offers more than 8,275 books, periodicals, videos, CDs, DVDs, and audio cassettes for loan to the public, as well as providing Internet access. Special offerings for children include a summer reading program, story hours, and performances. The Hadley Township Library is a branch of the Lapeer District Library, thereby giving Township residents access to the collections of all libraries in the district system. The Lapeer District Library was established January 1, 2003, pursuant to Act No. 24 of the Public Acts of 1989, as amended. The participating municipalities are Lapeer County, The City of Lapeer, Lapeer Township, Mayfield Township and Goodland Township.
The library's hours are from 11 AM to 8 PM on Monday and Tuesday, from 2 PM until 8 PM on Wednesday and Thursday and 9 AM to 2 PM on Saturday. For more information contact the Hadley Township Library at 810-797-4101.
Hadley Township Library Website
---
PUBLIC SAFETY
Police protection is provided to Hadley Township by the Lapeer County Sheriff's Department and the Michigan State Police. Hadley Township has one fire station, which is located on the west side of Hadley Road at the south end of the Village. The building houses the department's 1999 pumper tanker, 1994 pumper tanker, 1980 tanker, and 1986 4X4 grass rig. Since Hadley Township does not have a water system, the tankers are vital pieces of equipment. In 1994, the department also purchased a rescue unit, which is used to transport equipment such as the "Jaws of Life" and oxygen tanks. The Township recently received a grant to purchase a new pumper / rescue truck. Hadley Township has a volunteer fire department composed of 24 firemen, of whom the Chief, Assistant Chief, Captain, and two lieutenants are salaried. In total, the Township has 33 firefighters and first responders.
MESSAGE FROM THE FIRE DEPARTMENT
All open burning greater than the size of a campfire requires a burning permit which can be obtained by clicking here> Hadley Burn Permit
Questions ? Call 810-797-3473.
In order to receive optimum services during an emergency, please maintain a minimum clearance of 14 feet in width and 18
feet in height for the entire length of your driveway.
Hadley Fire Department sells reflective house numbers and posts at a cost of $15.00 installed. If you are interested in one, call 810-797-3473.
For more information click here Hadley Fire Department.
---